Attention: The total number of passengers will not exceed 12 people!
Exceptions:
– Days of Steamers with a capacity of more than 800 passengers, this number will be increased to 58 Passengers
(2 boats of 12 passengers + 2 boats of 17 passengers)
– The days when a private tour has been booked, the reservation will be complete *
* The days of cruise ships, our site will not record private tours.
The online payment of the deposit confirms your booking, we usually cash the balance shortly before departure (scheduled for 08:30 am) on the wharf Uturoa.
Means of paiements :
Cash XPF
Bank cardVISA & MASTERCARD with our wireless TPE
Local checks
The excursion starts at Raiatea at the SHELL station on the Uturoa wharf, near the zero kilometer marker. This departure is scheduled for 08:30, however, we are waiting for delays can occur.
If you do not have the opportunity to move to this place, we organize free shuttles between mileage indication PK15 East and PK15 West.
Do not hesitate to tell us your location if your accommodation does not appear in our list of accommodation, and if possible a phone number to contact you in case of unforeseen weather or other … We recover you in this area between 08:00 and 08:15. Our local number phone : 40 66 10 90 or 87 78 33 28.
You don't need transfers if your cruise ship dock at Raiatea's dock, the check point at SHELL station is then 200 meters far from your ship. The ships are almost never anchored at Raiatea.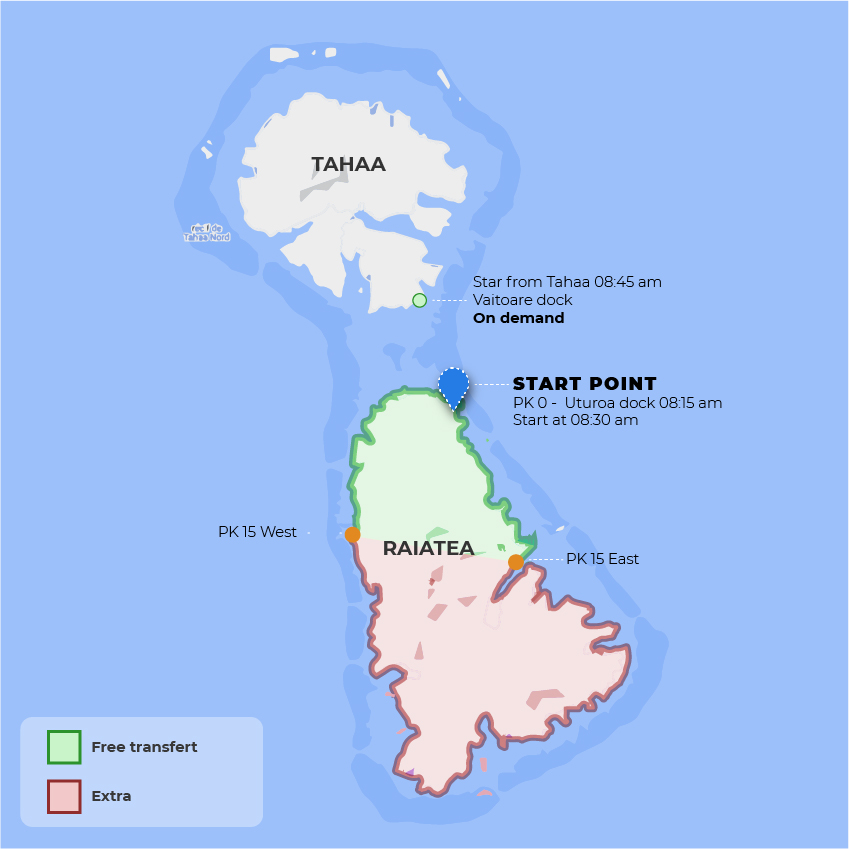 We refund :
Any cancelation earlier than 10 days before the day of excursion.
If bad weather conditions oblige us to cancel the excursion in the morning, we keep 5,000 xpf / person to cover the costs incurred.
If the ship of clients is diverted the day of excursion, we keep 5,000 xpf / person to cover the costs incurred.
Our excursion is open to all levels of swimming, including non swimmers who can enjoy the landscapes and swimming in shallow waters.
We accompany the swimming with the security concern. We reserve the right to limit access to individuals who do not have sufficient physical or practical skills to withstand current and relative complexity of certain passages.
We reserve the right to limit or cancel a swim in case of currents too strong
Thank you for informing us of your phobias and your heart condition or other.
Floating gear
We have foam machines or "Noddle" (Frites in French) available
Masks & snorkels
We have some masks and snorkels available, we advise you to take yours if possible.
Note: A mask must be able to seal without excessive pressure, it is therefore unnecessary to stretch the elastic band too much, it has no use, and it can break the mechanism.
Swimming shoes
We have a few pairs of bath shoes but not always the desired number depending on the sizes*
Flippers
We have a few pairs of fins but not always the desired number depending on the sizes. The fins are not essential but are of interest especially at Coral Garden 1 (North East Taha'a).
Our farm visits Perlière and vanilla farm are selected on criteria of Professionalism, quality of demonstration, quality of the products sold. Products offered for sale can be paid in credit cards.
We decline all responsibility should our program be modified because of the weather, or any other event independent of our will.